The Gwinn area does have interesting things to do and see. Anytime is a great time to visit southern Marquette County in the Upper Peninsula of Michigan and take part in the many sights and sounds.
Why not take a drive up north and just relax for a weekend, visit our shops and stores and visit with our friendly business owners and residents. They'll be happy to tell you stories, point you to other sites or just let you relax at your own leisure. We have motels, resorts and cabins, some on peaceful lake settings.
<![if !vml]>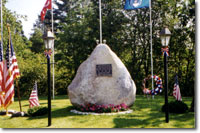 <![endif]>On Sept. 5,1998 a Veterans Memorial was dedicated to all veterans that serve in the Armed Forces of the United States of America. The monument is located in Peter Nordeen Park, downtown Gwinn. All gave some, some gave all, for freedom.