1999
January - Superior Extrusion begins aluminum extrusion plant. Firm soon expands to two shifts with 50 employees.
January - Headstart and Marquette General Hospital Behavioral Health Services begin operations in new Sawyer Medical Center
K.I.Sawyer Development Department/Marquette County receive "Facility of the Year" award from the National Association of Installation Developers.
March - Captain's Lounge and Restaurant opens.
May - YMCA assumes operation of West Branch Health & Fitness Center.
June -Second annual Sawyer EXPO organized by local businesses to showcase Sawyer's existing and potential opportunities
Summer - MACASU manages Little Trout Lake recreation area.
Summer - New substation installed to provide improved, consistent electric service.
August - Sawyer Dental Clinic, operated by Marquette County Health Department, opens in Sawyer Medical Center.
August - Salvation Army opens Salvation Army Youth Center with the support of Forsyth Township and the Sault Tribe.
September - "The Sky's the Limit", The Mining Journal, September 22, 1999. Twelve thousand-foot runway, new larger terminal, and international designation increase business potential and service.
September - 14,000-square foot addition opens at K.I.Sawyer Elementary School. Sawyer's K-6 enrollment reaches 500 by September, 2001.
Residents: 1,200
Jobs: 816
December - Sawyer Community Development Workgroup forms under auspices of Education & Human Services Committee of the Lake Superior Community Partnership. Goals are to improve public perception and quality of life at Sawyer.
December - K.I. Processing begins demolition at central heat plant with initial plans to build a potato processing facility
2000
February - DELPHI Automotive reaches lease agree
ment with Marquette County for an automotive testing facility.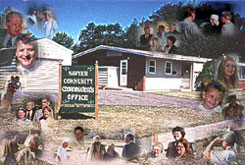 March - Community dialogues take place to learn what residents want for their community.
Spring - Frank the Mover begins commercial moving operation at Sawyer.

May - Community Coordination Office opens at 269 Canberra. Operation
covered by donations, grants, volunteers.
June - First annual community flower planting.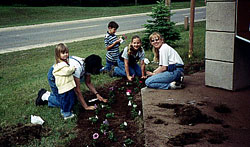 June - American Communications Network (A C N) call center begins taking calls. Predictions of up to 750 jobs
Summer - 2000 & 2001 MACASU operates Little Trout Lake in partnership with Forsyth Township, Sault Ste. Marie Tribe/Sawyer Village and West Branch Township.